KENDALL HOWARD - 5500-3-100-36 - Advanced Classroom Training Table 36" Cable Management Enclosure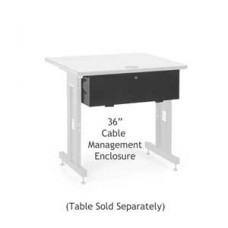 KENDALL HOWARD - 5500-3-100-36 - Advanced Classroom Training Table 36" Cable Management Enclosure
The Training Table Lockable Cable Management enclosure encases and hides the surface and modesty panel cable entrance points, providing a clean, polished look. The Cable Management Enclsoure also provides a cable lock point for computer security devices to be secured to, protecting community or public equipment. Multiple knock-outs provide easy cable routing down to the CPU or from desk to desk. The included fan pattern allows you to install an optional fan kit, providing additional airflow especially when heat generating equipment is housed inside.
Features:
• Compatible with the 36" W Training Tables
• Installation hardware included
• Black powder coated steel
• Limited Lifetime Warranty
• Made in the USA
Write a review
Your Name:
Your Review:
Note: HTML is not translated!
Rating:
Bad
Good
Enter the code in the box below: